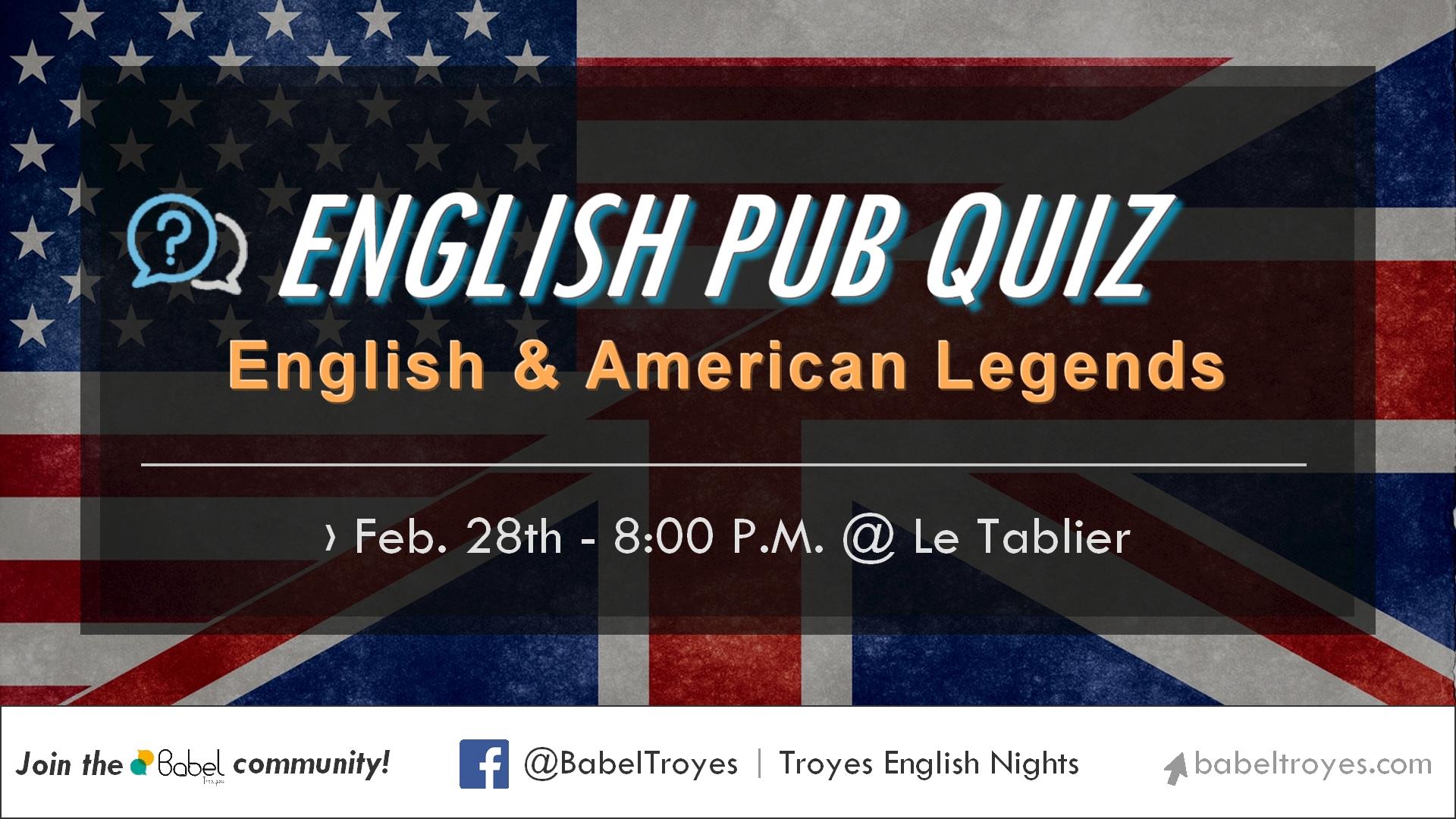 Register here (FREE): https://docs.google.com/forms/d/e/1FAIpQLScMWw0HyaAi_6aeM7TCqjOyj_xi7WPIdtpFCusalXVRmnBexA/viewform
You've been waiting for it, we are delivering! Come enjoy our latest Pub Quiz in association with ATHANOR ! The main theme will be that of English & American Legends (Movies, famous people, historical facts and so on)
Questions will feature general knowledge as well!
› WE HAVE LISTENED TO YOUR FEEDBACK
We have learnt a lot from last times and we have taken everyone's feedback into account.
• Registrations are needed and limited to 70 entries
• Teams will be made of minimum 6 and maximum 7 people (10 teams in total)
• Babel Troyes members will be yielded priority (you can get your membership here: https://babeltroyes.com/pourquoi-cotiser/)
__________________________________
› WHAT IS A PUB QUIZ? I hear you ask.
Coming from the heart of English and Irish pubs, the concept is pretty simple: several teams are confronting each other on questions of general knowledge (around 25).
› WHEN AND WHERE?
We will meet at Le Tablier Troyes at 8 p.m. and start at 8.30 p.m., make sure to be there on time so you don't miss out!
› AND WAIT, THERE'S MORE!
In addition, special prices will be granted to all attendees:
– Beer of the month – Pint: €6
– Heineken – Pint: €5
– Mojito: €7
– Red / White / Rosé wine 50cl jug: €9
– French fries: €4